Shawn's Piano is staffed with people who know and love pianos and music. There are no "professional sales people," just information and quality craftsmanship backed by knowledge. Read about our key people who help to keep Shawn's on the cutting edge.
"Professional Sales People"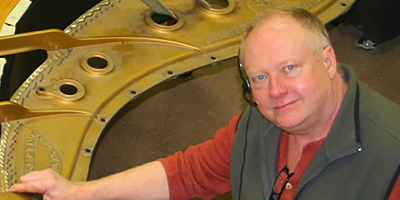 SHAWN HOAR
Owner
As the owner of Shawn's Piano, Shawn orchestrates every piano that comes through his doors. His diverse background allows him to understand the complete needs of each and every customer — from soundboard restoration and bridge work to stringing and toning. Shawn has been in the piano business since 1975. He is one of the top master craftsmen in the country and is internationally renowned for his development of new technology in piano repair and restoration. As an apprentice to Ed DePillo of Goss Piano in the 1970s, Shawn learned the rudiments of piano restoration. Not satisfied with the depth of his knowledge, he was determined to master the entire instrument beginning with soundboard making and replacement. So, in 1983, he went to study with master craftsman, Wally Brooks. After creating the equipment to build and install replacement soundboards, Shawn plied his new trade for the first time in 1986 to a Chickering with great success. From there, Shawn continued to hone his craft, seeking the highest level of Steinway restoration. He continued to create new tools and technologies unique to his business and by the mid 1990s, was in demand at national conventions of the Piano Technicians Guild as a teacher who could share new ideas and innovations. Shawn continues to reinvest his time and energy to improve his products and services so that he can find the perfect sound for each and every customer.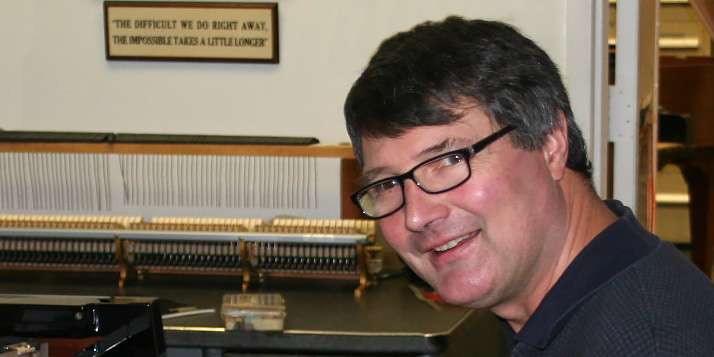 CHRIS PILON
Action Specialist and Regulator
Chris has worked with pianos since 1983 and has been with Shawn's since 1986. He studied at the University of Arizona, the University of Connecticut and the University of Nebraska and holds both a BFA and MFA in Applied Music. At Shawn's, Chris rebuilds the front and back actions to perform at their optimum level. Anything in the actions that have felt or leather is Chris's specialty.